Eyelid Surgery
Asian Eyelid Surgery
Asian eyelid surgery is a procedure that creates a fold in the upper eyelids. About 50 percent of the Asian population lack a natural fold just above the lashes in the upper eyelid, more commonly called a "double eyelid." Asian eyelid surgery, or Asian double eyelid surgery, produces permanent eyelid creases that can draw attention to the eyes and improve the appearance of the whole face. A specialist in Asian cosmetic surgery, double board-certified plastic surgeon Dr. Charles Lee located in Beverly Hills can create an attractive and natural-looking upper eyelid creases to beautify the Asian face.
Benefits of Asian Eyelid Surgery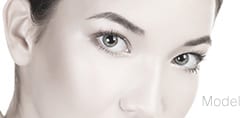 Natural-Looking Results
Asian eyelids, even those with a natural upper lid crease, are quite different from Caucasian eyelids. An Asian upper eyelid crease widens until the middle of the eye and then runs parallel to the edge of the eyelid, whereas a Caucasian upper eyelid crease is more of a deep, upside-down "U" shape. Rather than westernizing the eyelids, Dr. Lee recreates the Asian eyelid crease to give Asian patients natural-looking double eyelid creases.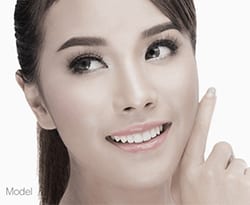 Improved Appearance
Double eyelid surgery creates the illusion that the eyes are more open. The results of the procedure counteract a naturally sleepy look and help the eyes look brighter and more inviting. An additional benefit is that the procedure makes the application of eye makeup easier, which can further improve the appearance of the eyes for Asian women.
Concerns
Recovery Time
The recovery time after Asian eyelid surgery is four to nine days off work depending on the technique used.
Permanence
Regardless of the type of technique used, double eyelid surgery results can be permanent.
Cost
The cost of eyelid surgery or Asian eyelid surgery with Dr. Charles Lee may vary depending on the patient's needs and the selected surgical approach. A price quote will be provided to you during your consultation with Dr. Lee.
Patient Testimonials
---
I know several people who had work done on the face and body by Dr. Charles Lee of Beverly Hills. I can say that every one of them looks terrific. They are the best advertisement for Dr. Lee, and the reason why I went to him for my eyelid surgery. Now, I look terrific too.
Dear Dr. Lee
I wanted to take this time to express my deepest gratitude to your for the epicanthoplasty you did for my eyes. It takes such tremendous precision, skill and experience to do what you did and I am truly pleased with the results. Not only are you one of the world's finest surgeons, you are also compassionate. I admire your keen eye and mastery as a surgeon. You understood what was going on with the trauma I had experienced and knew exactly how to go about making things better. I intend to return. My road to recovery has been long and painful but I know I will get there eventually with you as my surgeon. Thank you for making my surgery with you a stellar experience form the first contact via e-mail to our consultation and finally, the actual procedure. You are a rarity and you are treasured.
Read More
I had kind of puffy eyes and didn't think double eyelid surgery would help with that, but Dr. Lee somehow gave me not just beautiful double eyelids but took away the puffiness! Now, even my profile has changed: The side view of my eyes used to look like I had been crying for hours but no more! Dr. Lee is truly gifted and I wish I had gone to him years ago instead of agonizing about it for all that time.
Frequently Asked Questions
How does the Asian upper eyelid crease differ from the Caucasian upper eyelid crease?

The Asian upper eyelid crease begins close to the eyelashes and gets larger until the midpoint of the pupil, after which it runs parallel to the eye. The Caucasian upper eyelid crease tapers out laterally to create more of an upside-down "U" shape and is 20 percent larger than the Asian eyelid crease. A thorough understanding of these ethnic differences helps Dr. Lee to produce natural-looking results for his Asian eyelid surgery patients.

What techniques are used in Asian eyelid surgery?

Anchor blepharoplasty is used to remove some of the fat and slippery soft tissue so that the skin/muscle can be attached to the tarsus. Another procedure, known as medial epicanthoplasty, can be used to remove the natural Mongolian fold and allow the new eyelid crease to fold more naturally. The double sutures and twisting (DST) method is a non-incisional Asian eyelid surgery technique for qualified patients. Patients over age 40 with heavy brows are also encouraged to consider brow lift surgery.

Why do some techniques lead to fold failure?

Double eyelid surgical methods can lead to fold failure for various reasons. Some incisional procedures fail because of limited dissection, while others fail because of where the skin/muscle is secured. For instance, the popular technique of securing the skin to the levator aponeurosis can lead to an imprecise crease and a higher rate of fold failure. Some suture techniques fail because the sutures are merely buried in the lid, creating the potential for the sutures to tear through the soft tissue of the upper eyelid.