Blog: How to Delay a Facelift for 10 Years: Non-surgical Ways to Preserve Your Youth
Aging skin is a natural part of life. Eventually, even the most cared-for and protected skin will develop fine lines, wrinkles, sagging muscles, and definition-loss in the facial area. When these insecurity-causing imperfections become too much to handle, many patients turn to facelift surgery or a mid face lift to give them the facial correction they desire. While these surgical procedures significantly correct the visible signs of aging, they are invasive and require extended lengths of downtime and recovery—conditions that are not welcomed by or available to everyone. Fortunately, non-surgical technological advancements have created an entire line of facial rejuvenation procedures that can delay (if not eradicate) the need or desire for invasive facelift surgery.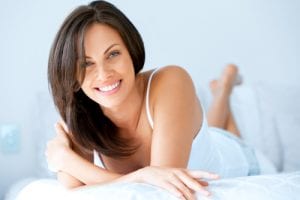 Ultherapy®
Ultherapy® is a non-invasive treatment option guaranteed to lift and tighten the skin above the eyebrows, on the lower face, on the neck, and under the chin. This procedure uses safe and time-tested ultrasound technology to target the fiber-muscular layer of the skin where fine lines, wrinkles, and sagging skin develop. Experience a boost in collagen production and a smoother and rejuvenated complexion with Ultherapy®.
ThermiSmooth® Face
ThermiSmooth® Face provides facial rejuvenation to the forehead, eyes, cheeks, mouth, and neck with no pain or downtime, making it a more pleasant option than an invasive facelift. This technology heats the underlying tissues with radio frequency energy designed to shrink collagen so that the skin tightens naturally. Results with ThermiSmooth® Face are natural looking and can last for over a year when paired with regular maintenance and a healthy lifestyle.
Vivace™ Microneedling
Microneedling is a process that creates a series of tiny "wounds" in the targeted treatment area to increase the production of collagen and, therefore, improve overall skin quality and texture. Vivace™ microneedling helps to postpone a facelift with its ability to eliminate wrinkles and fine lines, tighten skin, minimize pore size, and improve tone and texture with no downtime or pain. And unlike traditional microneedling, results are immediate. Vivace™ microneedling combines traditional microneedling with radio frequency technology to provide optimal results.
Injectables
Injectables are becoming a popular way to postpone the need for cosmetic surgery. Injectables such as dermal fillers or BOTOX® Cosmetic temporarily erase the signs of aging and loss of facial definition through a non-invasive approach. With little to no downtime or discomfort, these procedures are a natural choice for patients not ready to commit to surgery. BOTOX® Cosmetic targets fine lines and wrinkles on the forehead, frown lines, crow's feet, and furrows between the eyebrows. Additionally, dermal fillers such as Restylane® and JUVÉDERM® XC are derived from hyaluronic acid, a compound that appears naturally in the body, making it safe and effective for minimizing wrinkles and deep folds. JUVÉDERM VOLUMA® XC is another filler that restores lost volume in the cheek area to restore facial definition.
To learn more about these or any other non-surgical procedure, contact Dr. Charles Lee by calling (310) 271-5954.